Well, lets hope so!
Ive been a bit lax on writing and visiting blogs this week... I am sorry to all the people who visit me and whom I usually visit. Work (How dare they!) takes up time lately and my mommy forum too. Throw in a dash of drama and things just need my attention.
It is a fantastic Friday because of it being Friday at last!!! YAY!!!
Even though the market is closed I still have to work which is a bummer. But I feel good because I got something done at work that I was putting off. Its easy for me to "talk" here... to make a remark, be witty (in my mind at least...hahahaha) but its hard for me to be like that with people I do not know in "real life" But I was able to call someone and get what I needed with minimal embarrassment and/or stumbling over my words. I hate that I do that.
Easter is the time we spend with my cousins... so in essence we drive 100 miles in order to feast, visit, egg hunt and enjoy being together. The visiting is awesome (except for my posturing and snobbish cousin-in-law) but the drive is not so fantastic... fights in the first 5 minutes followed by this: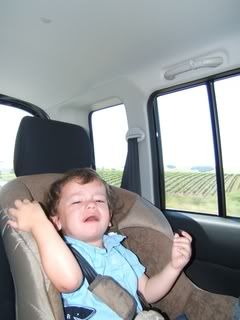 AHHHHH, the joys of having children.
What more could I ask for?
HAHAHAHA
Totally kidding... right now. Ask me again on Sunday night.
Have an awesome Easter my bloggy friends!