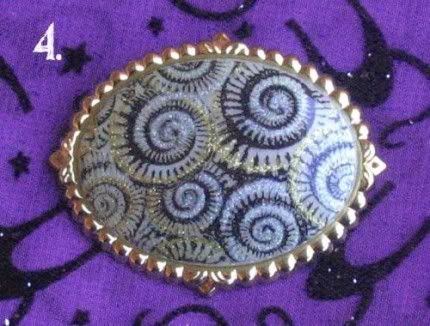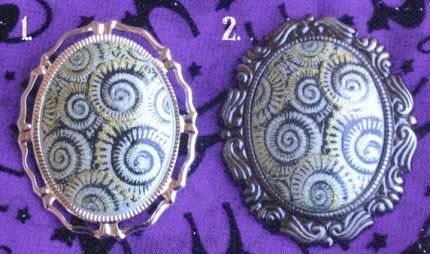 Jenny/Agonysdecay over at Agony's Decay Creepy Crafts Etsy Store Donated the above Gothic Paisley Swirl Cabachon Brooch Cameo-Esque. It can also be made into a pendant on a ribbon choker if you prefer. Winner will need to send neck measurements they would need. This is what Jenny had to say about her beautiful Brooch/Pendant: "Each of these brooches are 40 x 30 mm in size, they are not small brooches. Each of the cabs are vintage plastic based pieces. The sole manufacturer of these pieces is now out of business, when they are gone, they're gone."


So you will have a unique piece virtually no-one else will have. What I love about Jenny's store is the fact that she isnt a run of the mill artist. Her materials are different, fun and original. We all know Halloween is coming up...find some fun and affordable Gothic jewelry and release the inner Gothic Goddess in you!

RULES: One winner who will pick a Brooch or a Pendant. You must enter by going to Jenny's/Agonysdecays Creepy Crafts Etsy shop Here, find a different item that you would also love to own and come back here and comment what it is, also leave a way for me to contact you. USA ONLY

ADDITIONAL ENTRIES: Blog about this contest and link to this post, leave me the link and you will gain another entry ----- If you buy something from Agony's decay within this contest period, simply let Jenny/Agonysdecay at Creepy Crafts Agony's Decay creepy crafts know that Minxy Mimi sent ya, post again and let me know! Lastly, Twitter or stumble (I don't even know what Stumble is! LOL) and that will gain you another entry. As always, leave a way I can contact you.

CONTEST RUNS from Monday the 25th to Tuesday the the second of September! On Tuesday the second of September a winner will be chose randomly. GOOD LUCK and thank you for entering.