Well, my life. I have not had that much sorrow lately. Thank goodness!
But I have had frustration and anger and ups and downs... kinda like a Katy Perry song!
Its been lovely here, the weather has been good, my boss was out of town and it was relaxing.
My boys have been angels and Devils all in a span of 5 minutes. How is it possible that children (is it just mine?) can be so loving one minute and such utter PITA's next.
Jack is sweet, he is four and has FINALLY gotten potty training. OMG!! I thought I was going to be changing poopie nappies until he was 10 and I was 50! Not cool.
Max is 2.5 and he is also doing well on the potty training...which makes me happy since he smells worse than the port-a-potty's on my dad's farm in the 105 degree weather. Max can stink up a room and break up a party... as well as turn a stomach!
But these two sweeties decided that the GIANT container of baby powder was a cool new toy. The cats did not think so, they hid under the bed...smart cats! But mommy who left them playing in the back bedrooms for 5 minutes while she finished up General Hospital left Sonny Corinthos and walked into an even bigger mess. A roomful of powder and 2 boys who looked like this (but without the glitter and make-up) But OH< what mother doesn't want a powdered wig wearing drag queen for a son... I cant think of any.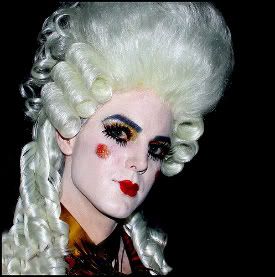 OMG...I was so upset, angry and I wanted to just lick them all the way into next week! Needless to say, they now know powder is NOT a toy that mommy approves of!
Ive been suffering from some mysterious disease.... my tongue has been swollen and had painful bumps on it. OUCH. I seem to finally be feeling better. But that's a quick update on me and mine.