Welcome to Not Me! Monday! This blog carnival was created by
MckMama
. You can head over to
her blog
to read what she and everyone else have not been doing this week. do yours and head on over to sign the Mr Linky!
I did not: D0 1,000 loads of laundry... nope! More like 10,000. How can two small boys make more dirty clothes than they actually own? Do the clothes just migrate over to my dirty clothes pile???
Thank goodness I live in Modern Times and don't have to use this contraption:
I did not: Spend hours on
Mafia Wars
offing other mafia members... feel free to join my mafia. We can terrorizer together!
I did not: Eat another 1,000 tortilla chips at the Mexican Restaurant...
Not me, I have the appetite of a bird. This bird: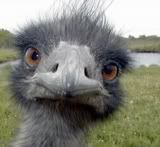 I did not: Do three chores all at the same time and not finish one of them... I am so much more organized. not!
I did not: Let me cat lick my spoon while I was eating cottage cheese... I would not do something so gross.... would I? Only Rudy knows for sure....