I would love to do reviews and a friend of mine told me the way to start, was to start off with a product you know and love... and what could be a more loved product than
Cinnabon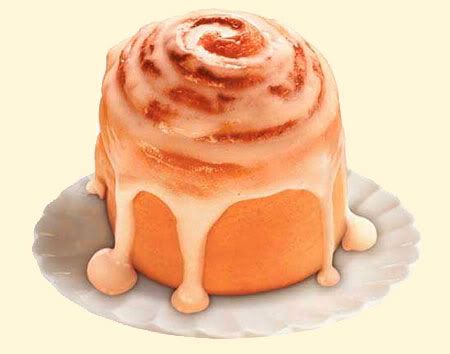 I first discovered Cinnabon about 10 years ago at a local mall in the Bay Area of California and Ive never bought a different brand since that glorious and happy day!
Cinnabon's literally melt in your mouth, in their words... "The roll that made us famous! Warm dough, filled with our legendary Makara® Cinnamon, topped with freshly made cream cheese frosting."
I think
Cinnabon
also threw in a dash of magic and a pinch of love to make these the most delicious and scrumptious treats ever! The cream cheese frosting is to die for... never grainy or too sweet...its just right! And the cinnamon... it is perfect in its intensity.
They have many exciting products as well as the traditional Cinnabon...they have Minibon, the Caramel Pecanbon (Warm dough, filled with our legendary Makara Cinnamon, topped with pecans and smothered with rich caramel) Cinnabon Stix and many more products! Even more exciting is it is avalable online here at
Cinnabon.com
So, if you have a favorite blogger you would love to surprise with a Cinnabon, (Who, ME???) or just a regular family member... Head on over to
Cinnabon.com
and tell em Minxy Mimi sent ya!