Sent to me via e-mail by Aggie at
The Universe according to Agata
Welcome to the Christmas edition of getting to know your friends. Okay, here's what you're supposed to do, and try not to be a SCROOGE!!! Just copy this entire post and paste into your post. Change all the answers so that they apply to you. Then post this on your blog linking back to who you got the idea from! Tis the Season to be NICE!
1. Wrapping paper or gift bags? Both
2. Real tree or Artificial? I love a real tree... but I have 3 cats and 2 kids. I am not sure which ones are more destructive. I know the cats are cuter when they pull the ornaments off than the kids are....hahahaha
For right now, I have a small Ghetto tree (see post below)
3. When do you put up the tree? Early December usually. It is already up tho... my boys were asking for it.
4. When do you take the tree down? Usually after the new years!
5. Do you like eggnog? No way! I do not care for eggs.
6. Favorite gift received as a child? Barbie town house. It looked similar to this: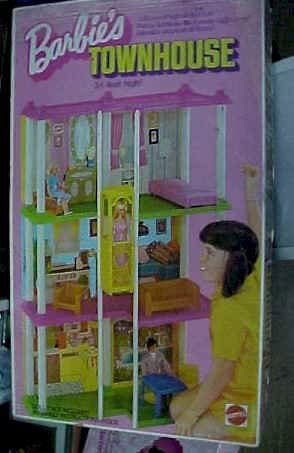 I loved the elevator!
7. Hardest person to buy for? My sister...she is picky, picky. She does love Pam Schifferl ornaments like I do tho...so its getting easier.
8. Easiest person to buy for? My mom, she loves anything and everything!
9. Do you have a nativity scene? No.
10. Mail or email Christmas cards? I mail photo cards, does anyone really e-mail cards???
11. Worst Christmas gift you ever received? A cheap dollar store frame that had "tubby time" on it (I am hoping it meant for a babies bath, not for my tubby tummy)
12. Favorite Christmas Movie? A Christmas Carol the old, old version. The 1951 version actually...its cool and creepy.
Scrooge
13. When do you start shopping for Christmas? Usually around late November. Most of it is done online though.
14. Have you ever recycled a Christmas present? Ummm... well....
15. Favorite thing to eat at Christmas? Polenta with Sausage and chicken. Its out traditional Italian Christmas day meal (Christmas Eve is cioppino and New Years eve used to be
Bagna Calda
but we stopped making it yearly)
16. Lights on the tree? Heck yeah! I like all white and colored...just depends on my mood!
17. Favorite Christmas song? Winter Wonderland, and O Holy Night
18. Travel at Christmas or stay home? We travel to my sisters house (1.5 hrs away) this year, but we usually trade off.
19. Can you name all of Santa's reindeer's? Yes, I can... I will not post them, cause you might copy...LOL
20. Angel on the tree top or a star? I like a Star best!
21. Open the presents Christmas Eve or morning? We open one on Christmas Eve and the rest on Christmas day!
22. Most annoying thing about this time of the year? Trying to budget for presents when you just want to be able to splurge and get your kids their hearts desires for once.
23. Favorite ornament theme or color? I am an obsessive Pam Schifferl collector. Other than that, I have no themes.
24. Favorite for Christmas dinner? Honey baked ham!!! And my Brother in law's lemon potatoes.
25. What do you want for Christmas this year? A few gift cards, I really would love to get some new clothes!
Now its your turn...